Chanel supports
black ambition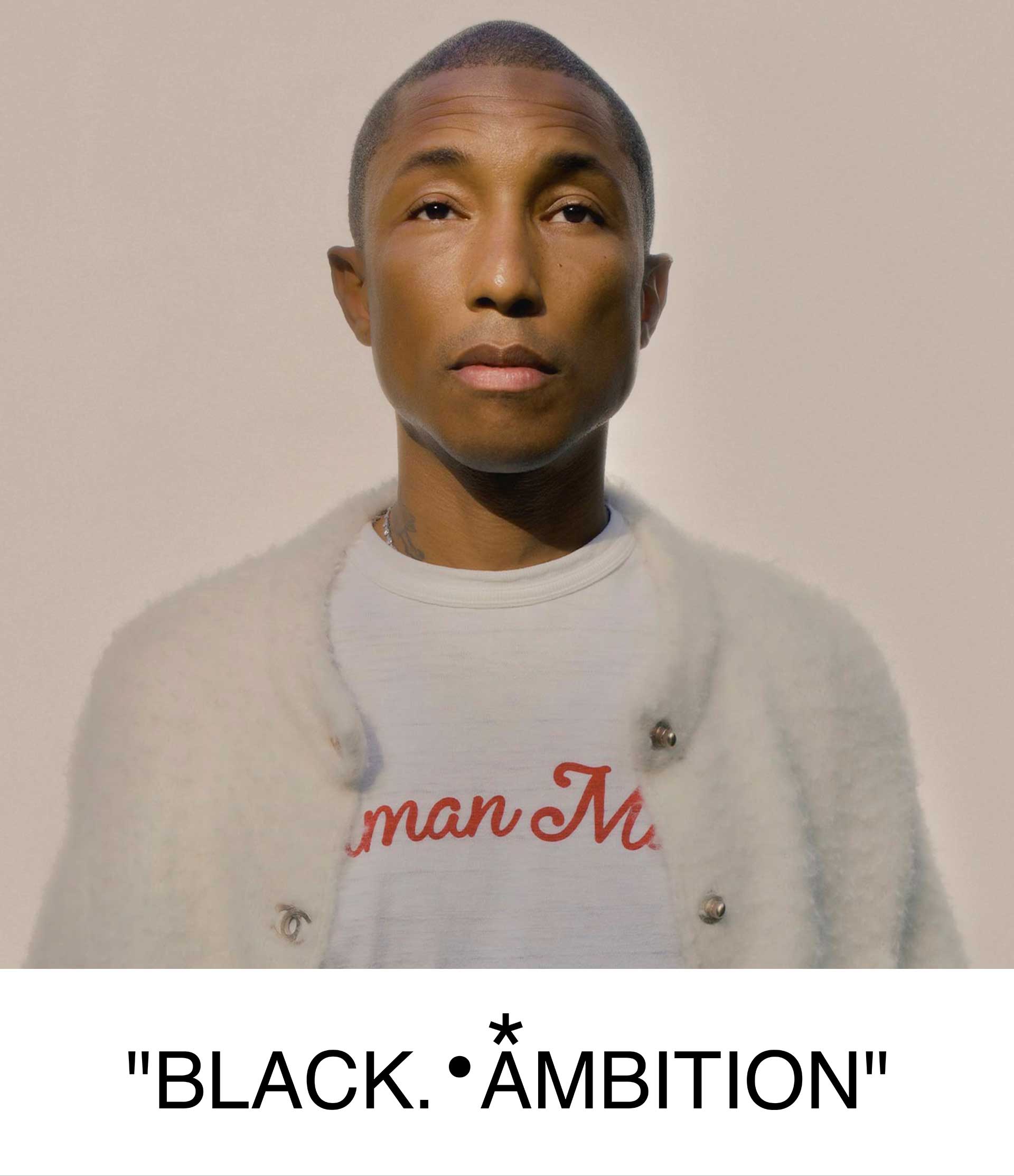 CHANEL partners with pharrell williams' Black Ambition to Launch a MENTORSHIP program FOR BLACK AND LATinX entrepreneurs
As a proud sponsor of Black Ambition, Pharrell Williams' non-profit initiative working towards closing the opportunity and wealth gap through entrepreneurship by investing capital and resources in high-growth startups founded by Black and Latinx HBCU students and entrepreneurs, CHANEL announces the launch of a two-part mentorship program focused on nurturing emerging talent through access to knowledge, insights, and opportunities from industry-leading experts.
For the first pillar of the program, CHANEL gathered a diverse and extraordinary group of experts including Tracee Ellis Ross, Actor, CEO and Producer; Edith Cooper, Co-Founder of Medley; Emma Grede, CEO and Co-Founder of Good American; and Natalie Massenet, Co-Founder and Partner, Imaginary Ventures; moderated by Samira Nasr, Editor-in-Chief of Harper's Bazaar, for "Women Who Lead", an intimate conversation about resilience, determination and building culture and community, all told through a woman's lens. The one-hour discussion will provide the Black Ambition prize contenders with insights, inspiration and career guidance from world class leaders, creating access to invaluable mentorship capital. Encompassing an expansive range of topics, the intimate conversation between leaders covers resilience and determination, mentorship, building culture and community, and the importance of self-confidence and clarity of vision. The conversation will be live streamed on June 11th at 1 p.m. exclusively for Black Ambition semifinalists and network members.
The second pillar of the program is a series of interactive mentorship workshops available to the Black Ambition prize finalists, focused on addressing critical capacity needs by leveraging the unique expertise of the CHANEL leadership community, as well as the House's network of experts to teach essential brand-building skills. Designed to support the specific needs of the Black Ambition entrepreneurs, the workshops will cover key business métiers that are essential to launching and sustaining a brand.
In supporting Black Ambition, CHANEL extends its longstanding collaboration with Pharrell, a House ambassador, and builds upon a shared commitment to investing in human potential and advancing greater representation in culture and society.
The industry leaders participating in the "Women Who Lead" conversation include:
Tracee Ellis Ross, Actor, CEO and Producer
Tracee Ellis Ross is an award-winning actress, producer, and CEO. She is best known for portraying Dr. Rainbow Johnson on the hit ABC comedy series "black-ish" and Joan Clayton on the long-running series "Girlfriends." Her production company, Joy Mill Entertainment, produces content across all platforms and is committed to amplifying multilayered stories that reframe assumptions about how people see themselves and each other. She is an Executive Producer and co-creator of ABC's "mixed-ish" and an Executive Producer and the voice of the upcoming Daria spinoff, "Jodie." Ross is the CEO and Founder of the industry changing award-winning PATTERN Beauty — a haircare brand she created to fulfill the needs of the curly, coily and tight-textured masses. The success with PATTERN has also served as a launch pad for Ross' thought leadership in diversity, equity and inclusion (DEI). She continues to champion initiatives that position DEI as a key business driver but also helps to reframe the narrative around Black women and Black consumers.
Edith Cooper, Co-Founder of Medley
Edith Cooper is the co-founder of Medley, a membership-based community for personal and professional growth. She launched Medley in July 2020 with her daughter, Jordan Taylor, to bring decades of experience in creating environments where people can perform to their potential to a broader audience. She is one of the nation's leading Black business executives, having spent 30 years on Wall Street. Most recently, she was a Partner, Executive Vice President, and the Head of Human Capital Management at Goldman Sachs. Edith serves on several public company boards, including Slack, Etsy, and EQT Partners, and nonprofit boards, including the Museum of Modern Art, the Smithsonian National Museum of African American History and Culture, and Mount Sinai Hospital.
Emma Grede, CEO and Co-Founder of Good American
Emma Grede is the CEO and Co-Founder of Good American, alongside Co-Founder Khloé Kardashian. Good American is the first fully inclusive fashion brand that celebrates all dimensions of female power. Prior, Emma worked in entertainment marketing at Inca Productions, and later became CEO and Chairman of ITB Worldwide. In the first decade of her career, she identified the power of partnering with celebrity talent to accelerate a brand's exposure and strengthen its credibility, and later infused this knowledge to build talent-backed businesses, beginning with Good American and later with SKIMS and Safely. Emma is also a strong advocate for driving change and championing diverse representation across the industry, which is evident through her work as Chairwoman of 15 Percent Pledge and Board Member of The RealReal. Born and raised in London, Emma currently lives in Los Angeles and is married to entrepreneur Jens Grede; together they have two children.
Natalie Massenet, Co-Founder and Partner, Imaginary Ventures
Natalie Massenet is Co-Founder and Partner at Imaginary Ventures, a venture capital firm focusing on innovations at the intersection of retail and technology. Founded in partnership with Nick Brown, Imaginary Ventures invests in best-in-class brands, platforms and entrepreneurs that are actively changing how a new generation of consumers live, eat and shop. Natalie revolutionized ecommerce when she founded online luxury retailer Net-A-Porter in 2000. She built the organization over 15 years, turning the platform into one of the world's most influential fashion businesses operating across retail, media and publishing platforms and in the process, shaping an extraordinary experience for the global luxury fashion consumer. In addition to her role at Imaginary, Natalie serves on the board of various portfolio brands.
Samira Nasr, Editor-in-Chief of Harper's Bazaar (Moderator)
Samira Nasr was named editor-in-chief of Harper's BAZAAR in July 2020, overseeing content strategy and development across the brand's print and digital platforms. Prior to BAZAAR, Nasr was the executive fashion director at Vanity Fair, where she managed and directed the magazine's fashion department and all fashion content. This role serves as a homecoming to Hearst Magazines as she was the fashion director at ELLE from January 2013 to May 2018, and before that served as style director for InStyle. In addition to working with top fashion magazines in publishing, she has also styled campaigns for several high-profile fashion and beauty brands. Nasr began her career in fashion working as an assistant to Grace Coddington, after earning a graduate degree in Journalism at New York University. She is currently a member of CFDA's Black advisory board, which is responsible for all of the organization's efforts on inclusivity, diversity and equality.