LE BLANC RICH CREAM
HEALTHY LIGHT CREATOR
REVITALISING - BRIGHTENING - RESTORING
DESCRIPTION
Bring your most beautiful light to life. LE BLANC Crème Riche Healthy Light Creator, a groundbreaking 3-in-1 whitening cream, enhances and amplifies your skin's healthy pure light. It acts on 3 major aspects of skin health to revitalize skin, regulate melanin production and restore essential skin lipids, boosting vitality and brightness. Formulated with CHANEL exclusive TXC™, precious ume flower extract and ume flower oil, it works holistically with the skin to allow its natural luminosity to blossom and grow. The luxurious, creamy texture of the rich cream intensively envelops skin in lasting comfort, leaving it smooth and velvet-soft to the touch. Even, hydrated, smooth and radiant, skin is intensely moisturised and nourished. The complexion bursts with a healthy pure light.
Benefits
Skin is healthy and beautiful: flawless, even, translucent and bright. Intensely hydrated and nourished, skin is plump, comfortable, soft and smooth and fine lines are visibly reduced. Now perfectly able to reflect light, skin blooms with new radiance.

Healthy pure light:
1. Revitalise:
Radiance +21%*
Smoothness
Tonicity

2. Regulate:
Dark spot -27%**
Luminosity
Translucency

3. Restore:
Comfort: +28%*
Hydration
Plumpness


Immediately, the skin is moisturised, smooth and enveloped in comfort.
The complexion is brighter and luminous.
After 1 month, its healthy pure light bursts from within.

*Instrumental evaluation, after 4 weeks (n=21)
**Clinical evaluation of facial dark spot intensity, after 4 weeks (n=21)
ACTIVE INGREDIENTS
LE BLANC Crème Riche Healthy Light Creator is formulated with CHANEL exclusive TXC™, precious ume flower extract and ume flower oil.
A symbol of strength, vitality and rebirth, the ume flower is the first flower to blossom in late winter, even under a blanket of snow, or at the arrival of spring. It is harvested by hand-pick during a limited blooming season, only in the morning to preserve its unique powers. Gentle yet strong, the flower allows skin's healthy pure light to blossom by performing three actions:

1. REVITALISE- Ume flower extract
Vitality is essential to perfect skin health. CHANEL has developed an extract of ume flower: a natural, exclusive* ingredient that boosts skin's vitality by encouraging a dedicated factor. With restored vitality, skin becomes more resilient to both internal and external stressors.

2. REGULATE - TXC™ & Ume flower extract
Regulating the production of melanin is the second core action of LE BLANC Crème Riche. On a constant quest for perfection, CHANEL introduces an exceptional ingredient, ume flower extract, which works to complement the CHANEL TXC™ molecule, for an even more powerful whitening action. The TXC™ molecule is a powerful poly-active ingredient that acts on every skin cell layer, targeting seven essential factors of hyperpigmentation. CHANEL Research identified ume flower extract as the best inhibitor of a protein called mortalin, a new biological target at the heart of the hyperpigmentation process. These two cutting-edge active ingredients act together in powerful harmony to correct existing dark spots and prevent new ones from forming.

3. RESTORE - Ume flower oil
For skin to radiate its best health and beauty, it needs to be thoroughly nourished, with its essential lipids restored. Enriched with ume flower oil, LE BLANC Crème Riche restores essential skin lipids and deeply nourishes the skin, ensuring long-term hydration.

*Extracted from the most premium variety of ume flower cultivated in an own designated field, exclusive to CHANEL with a specific extraction process.
HOW TO USE
Apply morning and evening to the entire face and neck, after LE BLANC Sérum.
Go back to Description
An exclusive location to discover all of the CHANEL fragrances, makeup and skincare, guided by fragrance experts and professional makeup artists. A unique space that plunges you into a brand-new world of CHANEL.
DISCOVER
Go back to About our boutiques
Discover an exclusive selection of products and order directly from the online store. Enjoy complimentary samples and signature packaging on all orders.
Go back to e-shop
Activate your rosy glow and keep it. LE BLANC creates a healthy luminosity that lasts. The NEW LE BLANC HEALTHY LIGHT CREATOR SÉRUM, now with a triple-efficacy formula featuring 10-year proven TXC™ technology and gardenia fruit extract, intensively brightens, soothes and evens skin tone. Your complexion never looked so bright.
DISCOVER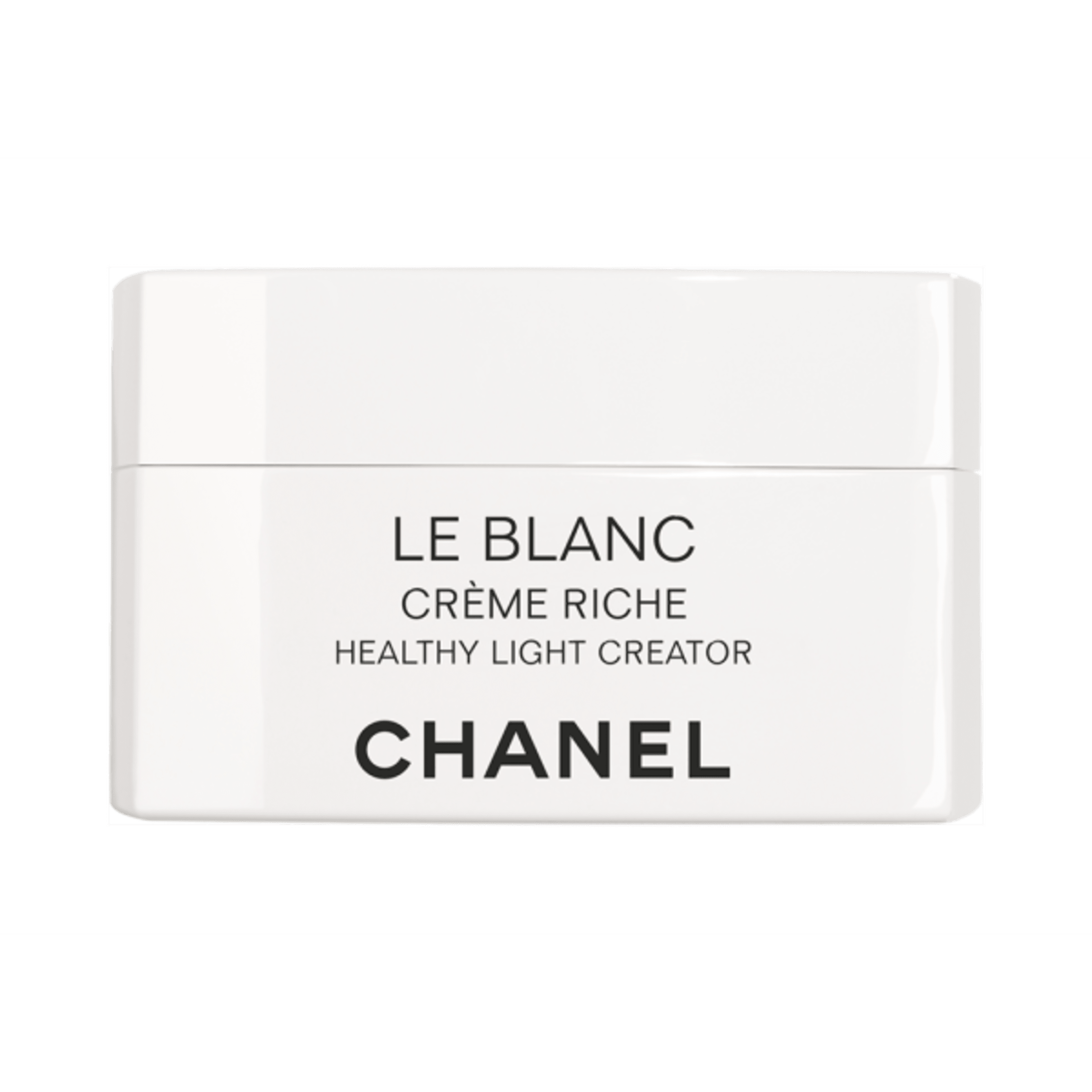 LE BLANC RICH CREAM
HEALTHY LIGHT CREATOR
REVITALISING - BRIGHTENING - RESTORING - 50 g