Self-winding mechanical movement

J12 GMT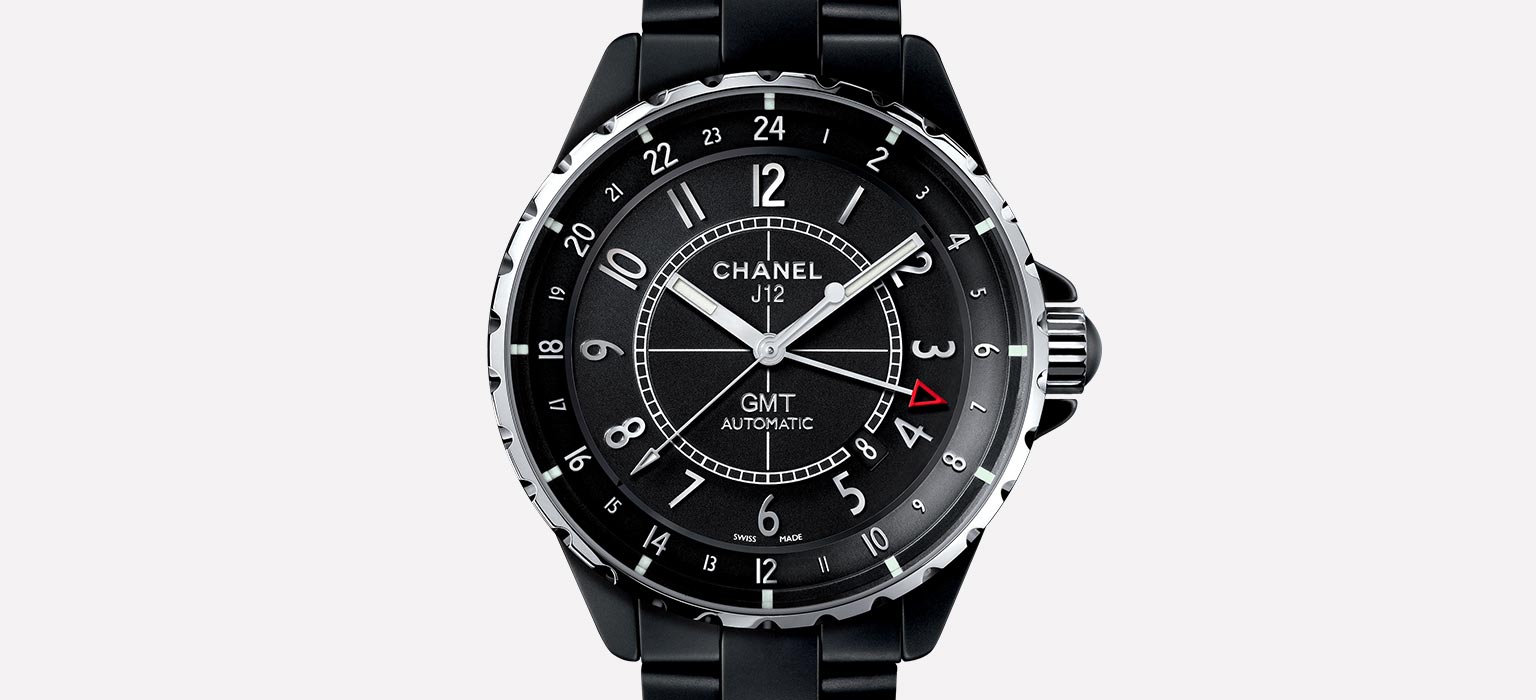 Video 1 - Adjusting the time
1 of /4
Adjusting the time


Adjusting the date


Winding the watch


GMT function
TAKING CARE OF YOUR WATCH
HOW OFTEN SHOULD YOU SERVICE YOUR WATCH?
Check water resistance every 2 years (or annually, if in frequent contact with water)
Full review every 4-5 years
Your watches water resistance features are engraved on the case back next to the fish marking.

This water resistance marking indicates the depth to which the movement is protected from dust, moisture, and any damage that may occur if it is submerged at that depth. Seals are used to make watches water-resistant. To ensure continuous water resistance, we recommend replacing the seals every two years from the date of first use. It is also advisable to have our experts test your watch's water resistance every year if it has been exposed to seawater or pool water for long periods. Never adjust the crown while submerged in water because it may leak into the case. It is best to remove your watch before taking a shower or bath and before entering a sauna or steam room because heat, soap and steam can prematurely age the water-resistant seals.

Condensation under the crystal indicates that water has got into the watch and it must be checked as soon as possible.
Go back to water resistance
For maximum accuracy and reliability, we recommend not wearing your watch when playing a potentially high-impact sport like tennis, golf, and horse riding. Also, stay at least 10 cm away from highly magnetised objects like smartphones, tablet computers, induction hobs, speakers, TV screens, and airport security detectors. For more information about magnetisation, please read the Watchmaker's Advice section.

Your watch is equipped with a self-winding mechanical movement that winds itself with the movement of the wrist, which causes the oscillating weight to turn on its axis. The power reserve can be affected if the strap is not adjusted correctly, so it is important that your watch is properly fitted. When the watch is not being worn, it has a power reserve of 42 hours. It must be manually wound when the power reserve runs out.

If the watch remains idle, we recommend winding it manually every two or three weeks (20-25 winds of the crown) so the movement's lubricating oils stay intact.

Important: It is best not to adjust the date between 10:00 PM and 1:00 AM (and between 4:30 PM and 1:00 AM for Moon Phase models).
Go back to movement
Before caring for your watch strap, we recommend checking that the crown is properly screwed down or pushed in.

Clean the strap with soapy water then rinse thoroughly. Dry with a soft cloth.
Go back to THE STRAP
Watches are one of those rare objects that operate continuously. To preserve its reliability and extend its lifespan, your watch should be regularly serviced by our certified workshops equipped with all the necessary tools and parts. Only CHANEL watchmakers are officially qualified to repair and service your watch.

Recommended routine service schedule:

EVERY 2 YEARS:
MAINTENANCE SERVICE (includes the following steps):

Disassemble the watch
Check the movement
Replace the battery (quartz watches) or calibrate the movement (automatic watches)
Disassemble and clean the watch with ultrasound
Replace any damaged parts
Reassemble the watch and replace water-resistant seals
Replace bars and screws, if necessary
Test the water resistance
Check the condition of strap and clasp
Monitor operation of quartz watches for 48 hours, automatic watches for 72 hours, automatic chronograph models for 96 hours
EVERY 4-5 YEARS:
FULL SERVICE (includes the following steps):

Disassemble the watch
Automatic movements: disassemble, clean, wind and calibrate the movement
Quartz movements: replace movement and battery
Disassemble the watch, replace any damaged parts
Polish steel and gold parts
Clean components with ultrasound
Reassemble watch and replace water-resistant seals
Replace bars and screws, if necessary
Test the water resistance
Check the condition of strap and clasp
Monitor operation of quartz watches for 48 hours, automatic watches for 72 hours, automatic chronograph models for 96 hours
Go back to servicing