LE BLANC OIL
HEALTHY LIGHT CREATOR OIL
REVITALIZING - BRIGHTENING - RESTORING
DESCRIPTION
Bring your most beautiful light to life.
LE BLANC Huile Healthy Light Creator is a 3-in-1 brightening facial oil that boosts skin's natural luminosity, allowing it to blossom and grow. It acts on 3 major aspects of skin health to revitalise and brighten the skin while restoring essential skin lipids. Formulated with precious ume flower extract and ume flower oil, it works holistically with skin's natural functioning to boost its luminous vitality. Quickly absorbed, this ultra-light oil leaves a satin-smooth finish on the skin for a lasting sensation of comfort. Intensely nourished and hydrated, skin is bright, translucent, supple and smooth. The complexion bursts with a healthy, pure light.
Benefits
Skin is healthy and beautiful: bright, luminous, translucent and smooth. Intensely nourished and hydrated, the skin feels comfortable and supple. Texture is refined and fine lines are visibly reduced. Now perfectly able to reflect light, skin blooms with radiance.

Healthy pure light:
1. Revitalise:
- Radiance: +22%*
- Smoothness
- Tonicity
2. Regulate:
- Brightness: +20%*
- Evenness
- Translucency
3. Restore:
- Nourished aspect: +37%*
- Plumpness
- Comfort

Upon awakening, the skin is visibly brighter and more luminous.
Intensely nourished, it is soft and feels plump with optimal comfort.
After 1 month, its healthy, pure light bursts from within.

*Clinical evaluation after 4 weeks of use (n=31)
ACTIVE INGREDIENTS
Composed almost entirely of naturally-derived ingredients, LE BLANC Huile Healthy Light Creator is formulated with ume flower extract, ume flower oil and precious natural nourishing oils.
A symbol of strength, vitality and rebirth, the ume flower is the first flower to blossom in late winter, even under a blanket of snow, or at the arrival of spring. It is harvested by hand-pick during a limited blooming season, only in the morning to preserve its unique powers. Gentle yet strong, the flower allows skin's healthy, pure light to blossom by performing three actions:

1. REVITALISE- Ume flower extract
Vitality is essential to perfect skin health. CHANEL has developed an extract of ume flower: a natural, exclusive* ingredient that boosts skin's vitality by encouraging a dedicated factor. With restored vitality, skin becomes more resilient to both internal and external stressors.

2. BRIGHTEN- Ume flower extract
Brightening the skin is the second core action of LE BLANC Huile. The antioxidant properties of ume flower extract increasingly illuminate dull and yellow-toned skin, brightening the complexion and helping skin recover its translucency and luminosity.

3. RESTORE- Ume flower oil
For skin to radiate its best health and beauty, it needs to be thoroughly nourished, its essential lipids restored. Enriched with ume flower oil and precious, natural nourishing oils, LE BLANC Huile nurtures, hydrates and refines the skin, leaving it supple and soft.

*Extracted from the most premium variety of ume flower cultivated in an own designated field, exclusive to CHANEL with a specific extraction process.
HOW TO USE
In the evening, apply a small amount to face and neck after your lotion, avoiding contact with eyes, then follow with LE BLANC Sérum. LE BLANC Huile may also be used in the morning, depending on skin needs and season.
Go back to Description
SIZE
50 ml
Particular Precautions of Use
Avoid contact with eyes.
List of Ingredients
SIMMONDSIA CHINENSIS (JOJOBA) SEED OIL | ETHYLHEXYL PALMITATE | DICAPRYLYL CARBONATE | LIMNANTHES ALBA (MEADOWFOAM) SEED OIL | PRUNUS MUME FLOWER EXTRACT | SQUALANE | PARFUM (FRAGRANCE) | CAPRYLYL GLYCOL | PENTAERYTHRITYL TETRA-DI-T-BUTYL HYDROXYHYDROCINNAMATE | AQUA (WATER) | BUTYLENE GLYCOL | IL12B
The list of ingredients is included on all of our product packaging. In case of an allergy, always check the list of ingredients before you use the product.
CHANEL 92 200 Neuilly-sur-Seine
Go back to More Details
The Art of Wrapping



THE REIMAGINED PRESENTATION

Each purchase is thoughtfully wrapped in iconic CHANEL packaging.

Redesigned with tomorrow in mind, every element has been optimized to minimize waste. All plastic has been eliminated. Boxes and bags are recyclable and made with 40% recycled* materials and 60% paper from sustainably managed forests, as well as water-based ink and glue. Pouches feature 100% organic cotton.
*Packaging recyclability is dependant on sorting and recycling methods, which vary by location

Choose between 2 wrapping options at checkout:

THE CLASSIC
Presented in a signature black-and-white box or bag.

L'ESSENTIEL
An organic cotton pouch placed directly in a shipping box.
Go back to The Art of Wrapping
DELIVERY & RETURNS
What are my delivery options ?
TNT Standard delivery within 6 to 8 business days (15€, complimentary over 70€)
Delivery Monday to Friday from 8am to 6pm
You will receive by email and SMS a delivery date notification directly from TNT.
If you wish to reschedule, you may select an alternative delivery date or modify delivery address
In case of absence, you will receive a message inviting you to arrange a new delivery.


What are your return policies ?
You can return all or part of your order within 30 calendar days from the date of shipping.
To return your product(s), fill out the return form and include it in your return parcel. Returns will only be accepted if this form is in your parcel. Please contact your Customer Care Service to receive a prepaid shipping label that you can stick on your return package and deposit it in a DHL collecting point. You can find the list of DHL collecting points on www.locator.dhl.com.
Eyewear Products may also be returned within a CHANEL fashion boutique.
For health and hygiene protection, cosmetic products that have been unsealed are not eligible for reimbursement.
All products must be returned in their original packaging and eyewear products must be returned with the accessories provided. They also must be returned with their tag. Products that have been altered are not returnable.
If the above conditions are met, you will receive a refund for the returned products as well as the delivery costs that you originally incurred (except in the case of a partial return).
Go back to DELIVERY & RETURNS
The art of wrapping
Discover the exclusive holiday gift wrapping and services offered by the House.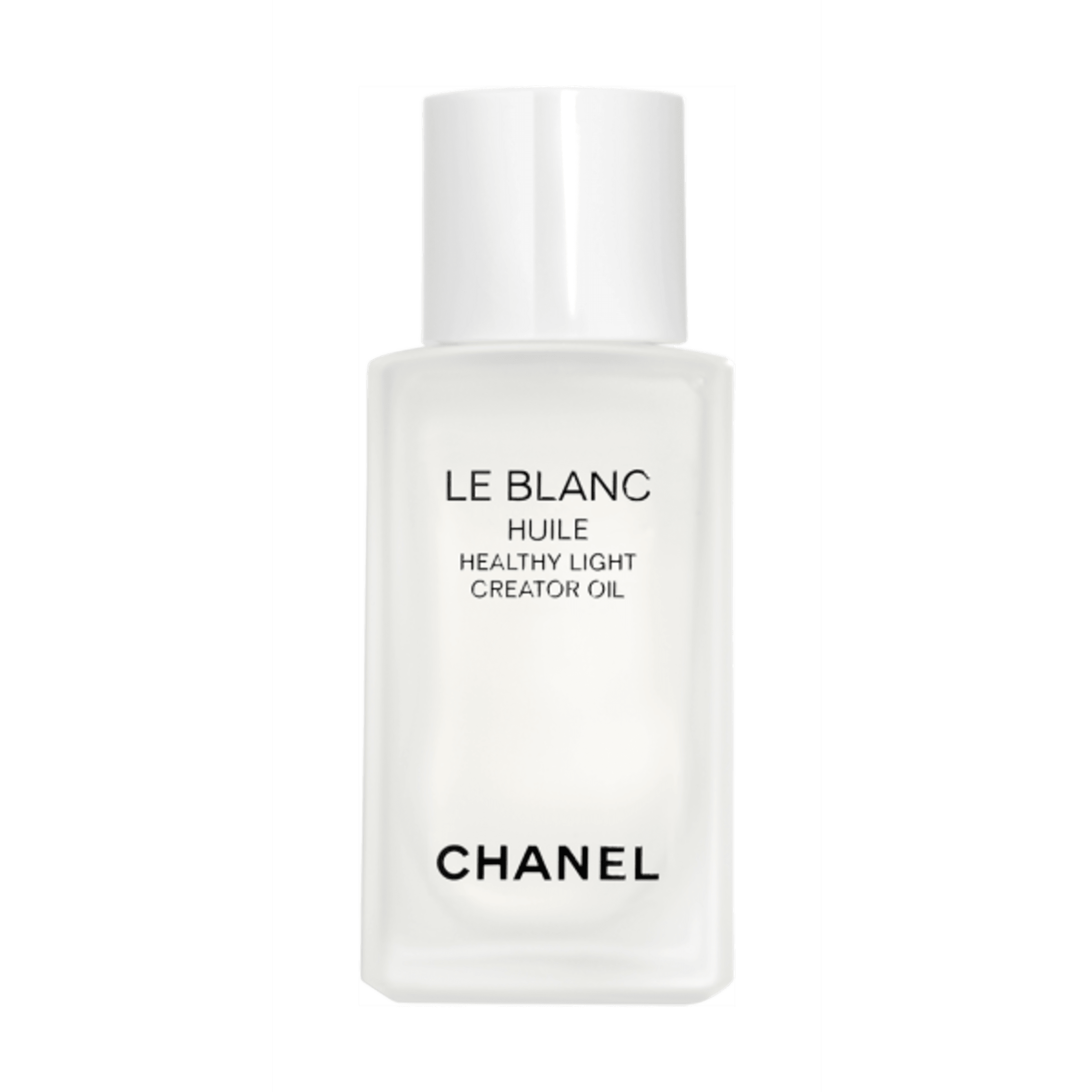 LE BLANC OIL
HEALTHY LIGHT CREATOR OIL
REVITALIZING - BRIGHTENING - RESTORING - 50 ml