LA MOUSSE
ANTI-POLLUTION CLEANSING CREAM-TO-FOAM
Product Information
DESCRIPTION
CHANEL introduces a new sensorial richness to the daily cleansing routine with a collection of simple and effective makeup removers and cleansers. These universal creations are dedicated to all women and skin types, and offer the most exquisite makeup removal.

LA MOUSSE deeply cleanses and purifies the skin. It frees it from impurities, such as pollutants, dust, sweat and excess sebum, while removing traces of makeup. On contact with water, the rich cream texture transforms into a generous, enveloping foam.

This indispensable step becomes a pure moment of wellbeing and leaves skin clean, soft and comfortable. The complexion glows with freshness.

Dermatologist tested on all skin types.
Non-comedogenic.

ACTIVE INGREDIENTS
At the heart of LA MOUSSE, a unique blend of two marine plant extracts helps combat pollution while preserving skin's essential rhythms.
- Blue micro-algae protect cells from micro-stress caused by pollution.*
- Marine salicornia extract moisturises and strengthens the skin.
LA MOUSSE combines the performances of these two potent ingredients with the pleasure of a creamy texture for skin cleansing that is both gentle and effective.

*In vitro tests.

HOW TO USE
1. Place a small amount of LA MOUSSE (a) into the palm of your hand and work into a foam with water (b).
2. Apply onto face and massage over skin with circular movements. Avoid contact with eyes.
3. Rinse thoroughly with water. Pat skin dry with a clean towel.

Use morning and evening.

Caution: in case of contact with eyes, rinse immediately. Do not store in extreme temperatures.

Go back to Description
SIZE
150 ml
Particular Precautions of Use
Avoid contact with eyes.
List of Ingredients
The list of ingredients is included on all of our product packaging. In case of an allergy, always check the list of ingredients before you use the product.
CHANEL 92 200 Neuilly-sur-Seine
Go back to More details
REORIENT YOUR SKINCARE RITUAL
After cleansing with LA MOUSSE and exfoliating with LA MOUSSE CLARIFIANTE, finish by applying HYDRA BEAUTY Micro Sérum, a water-light formula that locks in long-lasting hydration.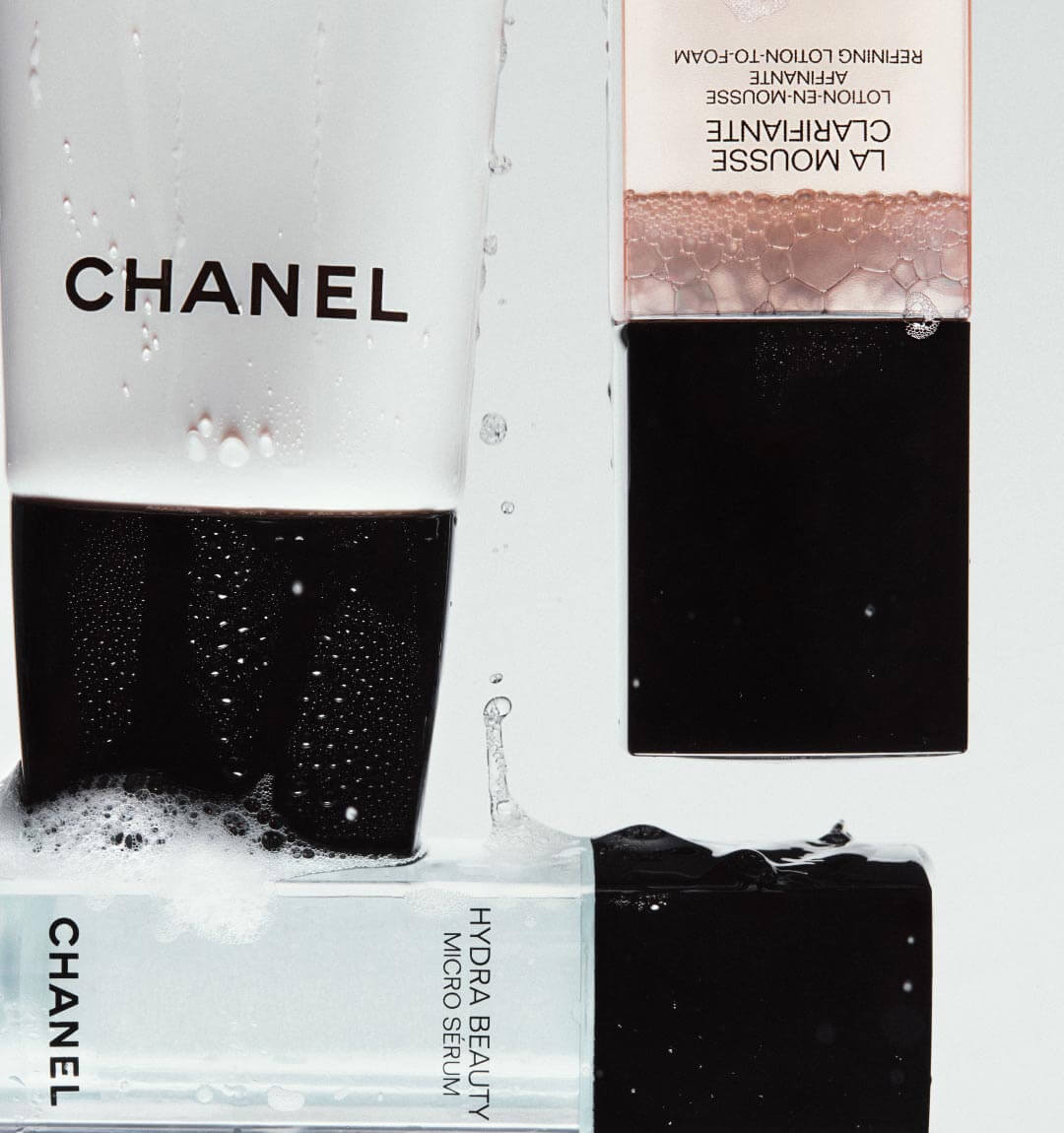 After cleansing, apply one to two pumps of LA MOUSSE CLARIFIANTE to your fingertips, then massage into cheeks, forehead and neck until fully absorbed. Immediately, skin feels balanced and comfortable. After 1 month, the complexion looks bright and the appearance of imperfections is reduced.