quartz movement with date indicator beige gold tweed

boy·friend classic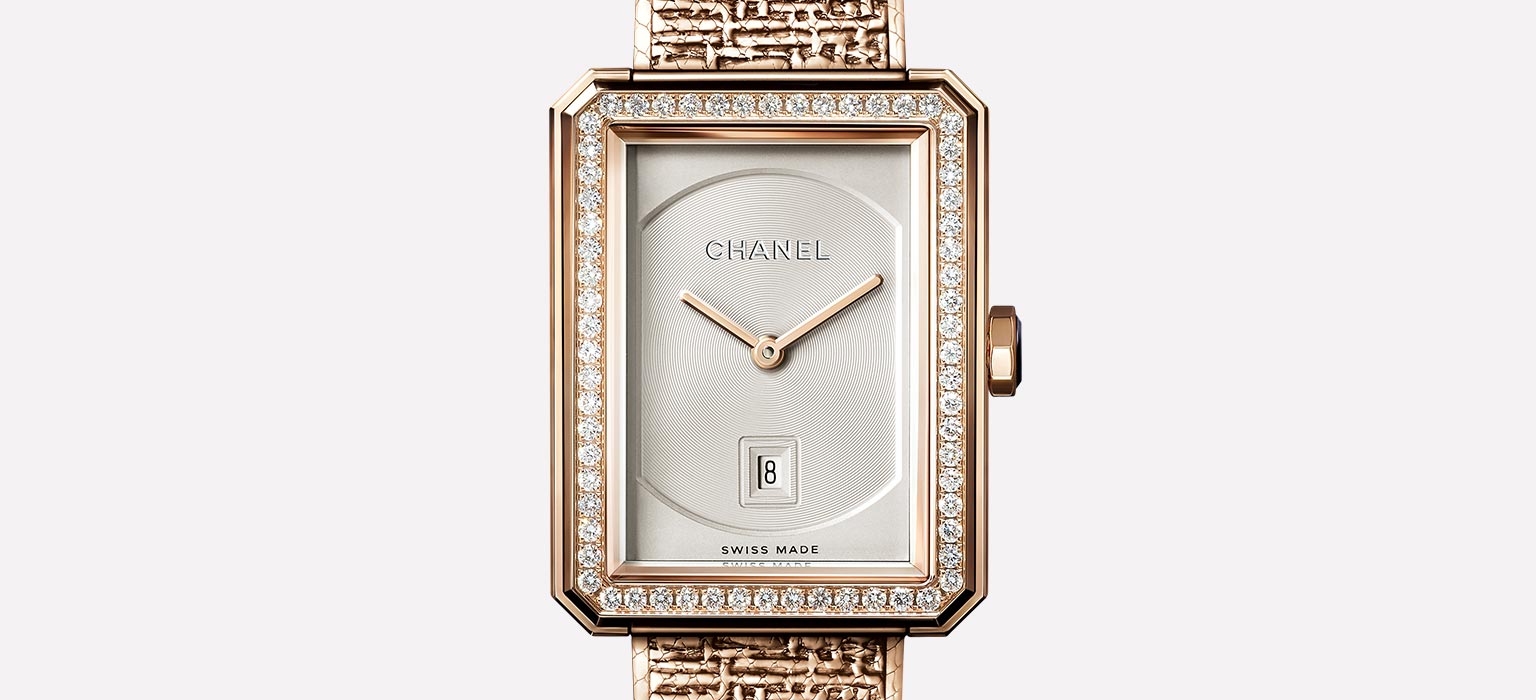 video 1 - adjusting the time
1 of /3
Adjusting the time


Adjusting the date


Adjusting the size
TAKING CARE OF YOUR WATCH
BATTERY LIFE
3 years on average
HOW OFTEN SHOULD YOU SERVICE YOUR WATCH?
Check water resistance every 2 years (every year if in frequent contact with water)
Servicing every 4 to 5 years
Your watches water resistance features are engraved on the case back next to the fish marking.

This water resistance marking indicates the depth to which the movement is protected from dust, moisture, and any damage that may occur if it is submerged in water. Seals are used to make watches water resistant. To ensure continuous water resistance, we recommend replacing the seals every two years from the date of first use. It is also advisable to check the water resistance of your watch case every year if it has been exposed to seawater or pool water for long periods. Never adjust the crown while submerged in water because it may leak into the case. It is best to remove your watch before taking a shower or bath and before entering a sauna or steam room because heat, soap and steam can prematurely age the water resistant seals.

Condensation under the crystal indicates that water has got into the watch and it must be checked as soon as possible.
Go back to Water resistance
In quartz movement watches, the movement is powered by a battery that can last for 2-4 years, depending on the model. If the battery is completely discharged or low (the centre second hand on some watches will begin jumping four seconds faster), we recommend taking it to our expert watchmakers as soon as possible. Never leave a flat battery in your watch. It can leak and permanently damage the movement.

Important: It is best not to adjust the date between 10:00 PM and 1:00 AM.
Go back to movement
Before caring for your watch strap, we recommend checking that the crown is properly screwed down or pushed in.

Clean the strap with soapy water then rinse thoroughly. Dry with a soft cloth.
Go back to THE STRAP
Watches are one of those rare objects that operate continuously. To preserve its reliability and extend its lifespan, your watch should be regularly serviced by our certified workshops equipped with all the necessary tools and parts. Only CHANEL watchmakers are officially qualified to repair and maintain your watch.

Recommended routine service schedule:

EVERY 2 YEARS: MAINTENANCE SERVICE (includes the following steps):

Disassemble the watch
Check the movement
Replace the battery (quartz watches) or calibrate the movement (automatic watches)
Disassemble and clean the watch with ultrasound
Replace any damaged parts
Reassemble the watch and replace water resistant seals
Replace bars and screws, if necessary
Test the water resistance
Check the condition of strap and clasp
Monitor operation of quartz watches for 48 hours, automatic watches for 72 hours, automatic chronograph models for 96 hours
EVERY 4-5 YEARS: FULL SERVICE (includes the following steps):

Disassemble the watch
Automatic movements: disassemble, clean, wind and calibrate the movement
Quartz movements: replace movement and battery
Disassemble the watch, replace any damaged parts
Polish steel and gold parts
Clean watch components with ultrasound
Reassemble watch and replace water resistant seals
Replace bars and screws, if necessary
Test the water resistance
Check the condition of strap and clasp
Monitor operation of quartz watches for 48 hours, automatic watches for 72 hours, automatic chronograph models for 96 hours
Go back to servicing