SUBLIMAGE L'EXTRAIT DE CRÈME
ULTIMATE REVITALISING AND RESTORING CREAM
DESCRIPTION
Pour la première fois, CHANEL réunit toutes les molécules actives du cycle de vie de Vanilla Planifolia dans un soin nouvelle génération en trois dimensions : une naturalité d'exception, une concentration inégalée et une sensorialité addictive. La nature à sa plus haute puissance, pour une peau régénérée, réparée et protégée. Jour après jour visiblement plus lisse, plus forte et plus lumineuse. L'art de la formulation à son plus haut niveau de sophistication avec une texture double émulsion. Plus qu'une crème, L'Extrait de Crème.
BENEFITS
SUBLIMAGE L'Extrait de Crème offre à la peau la puissance d'une cure dans une crème d'exception.

Régénérée, chaque jour plus résistante aux agressions, la peau est :

Réparée (+63 %*), plus rebondie (+60 %**), plus lisse (+52 %**), visiblement nourrie (+125 %**), pleine d'éclat (+50 %**).

* Mesure instrumentale de la perte insensible en eau, 21 femmes.
** Évaluation clinique après 4 semaines, 41 femmes ayant un rythme de vie intense.

ACTIVE INGREDIENTS
SUBLIMAGE L'Extrait de Crème concentre toutes les fractions de Vanilla Planifolia et fusionne tous ses pouvoirs :

- Des feuilles sont extraites les cellules souches qui favorisent le processus naturel de réparation cutanée.
- L'extrait de fleurs et l'huile d'enfleurage renforcent les défenses de la peau.
- Le fruit précoce produit, à un instant T de sa maturation, les Ephémères de Planifolia, boosters de régénération.
- Du fruit vert est extraite l'eau intense de vanille, bouclier naturel de la peau.
- À partir du fruit est créé l'actif PolyFractionné (Vanilla Planifolia PFA*) au pouvoir de régénération intense.

* Depuis 2006, CHANEL emploie un procédé spécifique, le PolyFractionnement, pour créer des actifs purs, rares et précieux. 60 000 fruits et 14 000 fleurs fraîches sont nécessaires à la fabrication d'1 kg de Planifolia PFA Enrichi. (PFA= PolyFractionnement des Actifs).


HOW TO USE
Sous les doigts, la texture de SUBLIMAGE L'Extrait de Crème est onctueuse. À l'application, fine et fraîche, elle fond délicieusement sur la peau et pénètre instantanément.

- Prélever SUBLIMAGE L'Extrait de Crème à l'aide de la spatule et déposer une petite quantité sur chaque joue, le front, le cou et le décolleté.
- Avec les deux mains, lisser les traits du visage de l'intérieur vers l'extérieur. Pour le cou suivre la ligne de contour du visage.
- Enfin pour le décolleté lisser délicatement du menton vers les clavicules.
- Afin d'optimiser les bénéfices de la crème, effectuer ensuite le geste de régénération spécifiquement développé par CHANEL : les mains fermées, masser circulairement à l'aide des phalanges les différentes zones du visage.

Go back to Description
An exclusive location to discover all of the CHANEL fragrances, makeup and skincare, guided by fragrance experts and professional makeup artists. A unique space that plunges you into a brand-new world of CHANEL.
Discover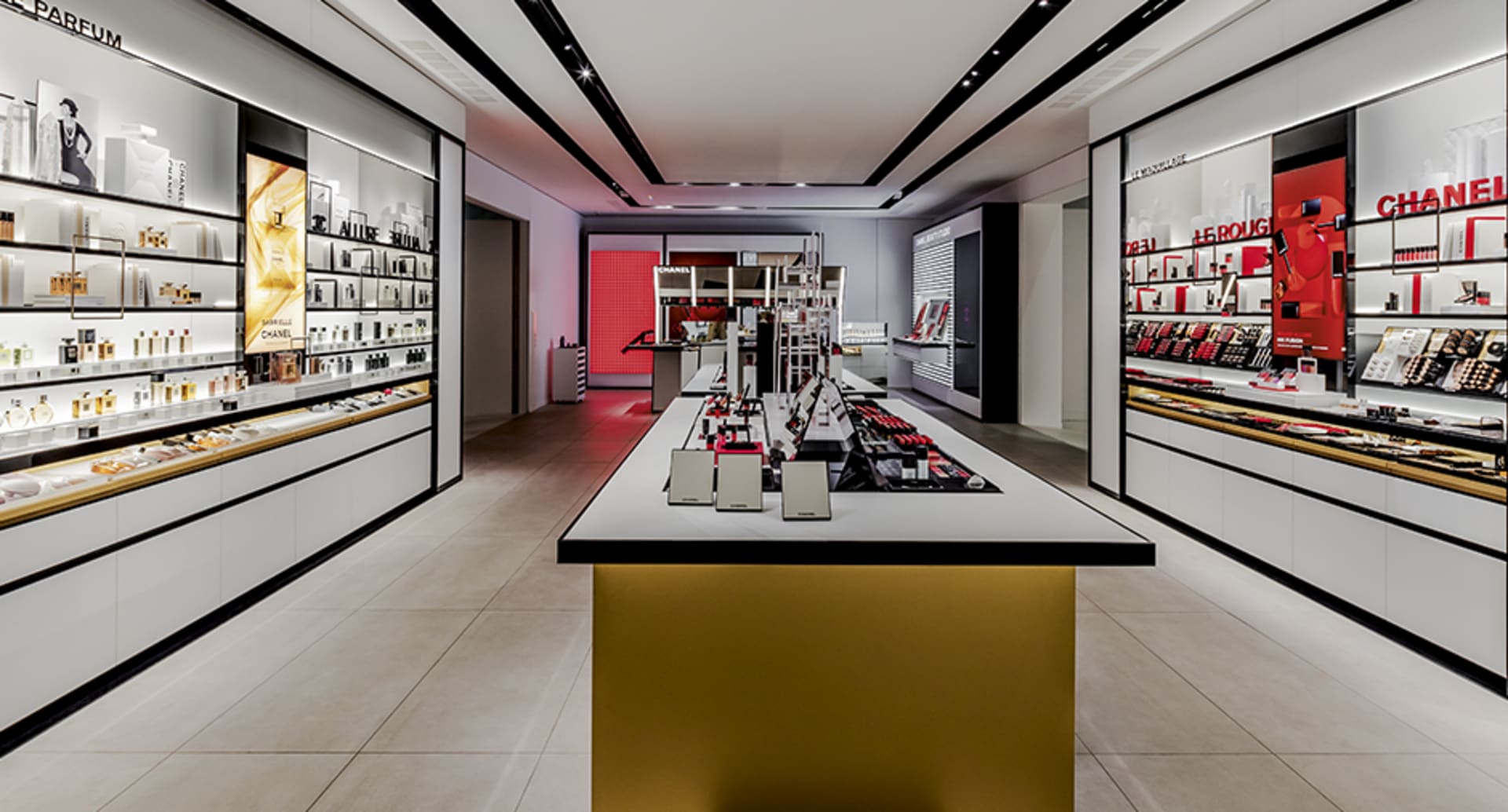 Go back to About our boutiques